I'm 65 yrs old and have no grandchildren. There's not much I can do about it. None of my three children are married. There are times when I think I'll never see grandchildren of my own. If it turns out that I never have grandchildren, all is not lost because I have three sisters who have grandchildren. I'll just borrow my siblings' grandchildren (
in Native American fashion
) and enjoy them as I would my own, --if I had some.
Among the Cheyenne, as is true for most Native Americans, there is a tradition that one's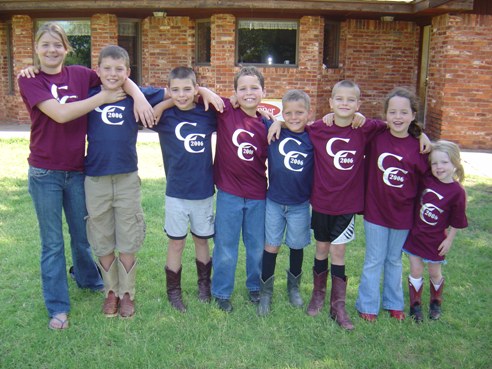 siblings' grandchildren are his grandchildren.
My oldest sister (
who is two years younger me
),
Mary John Carter
, has eight wonderful grandchildren. So "Indian way" (
or by Native American tradition
), her grandchildren are my grandchildren... Her grandchildren live in Catoosa, OK; Dumas, TX; and Gallatin, TN.
Every year in June, Mary hosts a Cousin's Camp at her home in Hammon, OK. All of her grandchildren go to her house and spend a week doing all sorts of interesting and delightful activities. This year was special. One of our sisters,
Jane Ann Bowen, our parents, John and Loy
Flick
, and I joined in the fun. We had a wonderful time doing activities with the children. Here's a pictorial account of the
Carter Cousin's Camp of
2006
. Am I proud of my "Indian way" grandchildren? You bet your boots, I am!!