I'm an Okie by birth and by choice. Oklahoma history and geography is a passion of mine. In 1993, I went on a tour through all 77 Oklahoma counties in one trip. I called the trip, "
Tour de 77 Oklahoma Counties
." The trip was eight days in length and I covered 2,953 miles. I traveled through the 77 counties in a
1977 Oldsmobile
. On the trip, I collected a sample of soils and a sample of rocks from each county. When I returned home, I made a
display
of the soils.
Recently, 13 years after my "Tour de 77 Counties, I traveled through the 77 Oklahoma counties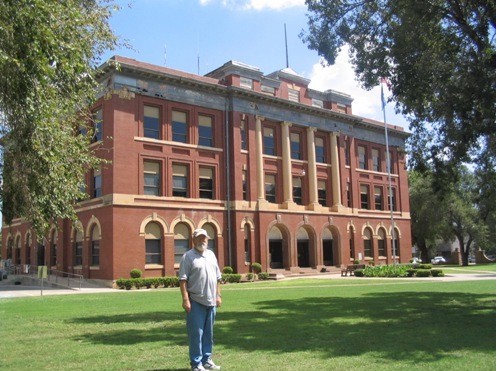 again. The purpose of my trip this time was to collect photographs of the 77 Oklahoma county courthouses. I didn't travel to all the counties in one trip this time. Rather, I took several shorter, out and back, trips. Although the trips were shorter, I covered more miles (
about 3,500 miles
). From June of 2005 to June of 2006, I collected photographs of county courthouses. To verify that I had actually made the entire trip, I photographed myself in front of each courthouse.
Here is the album
that I created which shows each of the 77 Oklahoma county courthouses.
I'm not the world's best photographer, I may be the world's worst. Several of my photos are very poor. I apologize for that. I hope to eventually return to the counties and obtain better photos for my collection.